Time to See a Fall in Falls
Mary Michael has the unique opportunity to work with trailblazing leaders both inside and outside the clinic walls to create innovative patient-centered solutions. It is her responsibility to understand how the world is changing across multiple disease categories, and she pulls together the thoughts, ideas, and research from a global array of key opinion leaders, patient advocates, technologists, caregivers, and more to incubate novel business solutions.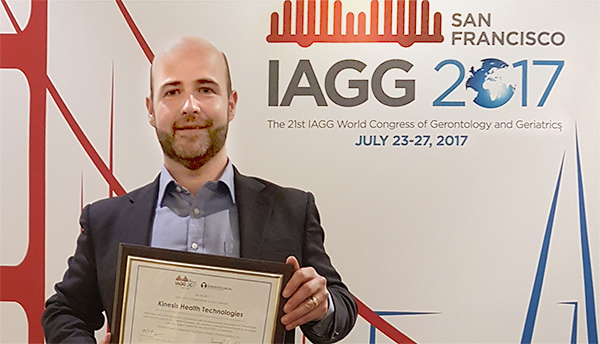 For the past two years, in association with 
AGE-WELL NCE
 and 
Aging 2.0
, Otsuka has supported a pitch competition at the 
International Association of Gerontology and Geriatrics
 meeting which encourages some of the world's most forward-thinking entrepreneurs to pitch new, innovative ideas and products that can improve the lives of older adults, caregivers, and healthcare professionals.  This year's winner, Kinesis Healthcare Technologies, proposed an objective tool for identifying older adults at risk of falling through their medical device, QTUGTM.  We asked the CEO and Co-founder of Kinesis, Seamus Small, to join Only Otsuka as a guest blogger to provide his insights into the event and their winning pitch.
Falls in older adults are one of the greatest challenges we face with an aging society.The impact that falls have on an individual, their family, the healthcare system, and society simply can't be overstated. Falls are both common and costly – 1 in 3 older adults fall every year, and an estimated $30 billion is spent in the US alone to treat injuries caused by falls.The likelihood of injury, the potential of hospitalization, and a loss of independence, an increase in social isolation, loneliness, depression and even death, bring into sharp focus the reality of falls. Indeed, my own family were touched by this issue when my Grandmother died five days after fracturing her hip as a result of a fall.On a more positive note though, falls are not inevitable. An estimated 40% of falls can be prevented through early and targeted intervention. Many of the risk factors are modifiable, and the most successful interventions are based on strength and balance exercise programs.At
Kinesis Health Technologies 
we develop sensor-based technologies that produce precise measurements from a patient undertaking standard clinical mobility and gait tests. We use these measurements to more accurately identify those patients at risk of falls and highlight those risk factors to address to prevent falls.Our first product Kinesis
(Quantitative Timed Up & Go)
is an instrumented version of the
Timed Up and Go (TUG) test
which is used all over the world to assess mobility and falls risk in older adults. QTUG™ precisely measures each phase (standing, walking, turning & sitting) of this test using body worn matchbox size wireless sensors that are placed on the left and right leg while doing the test.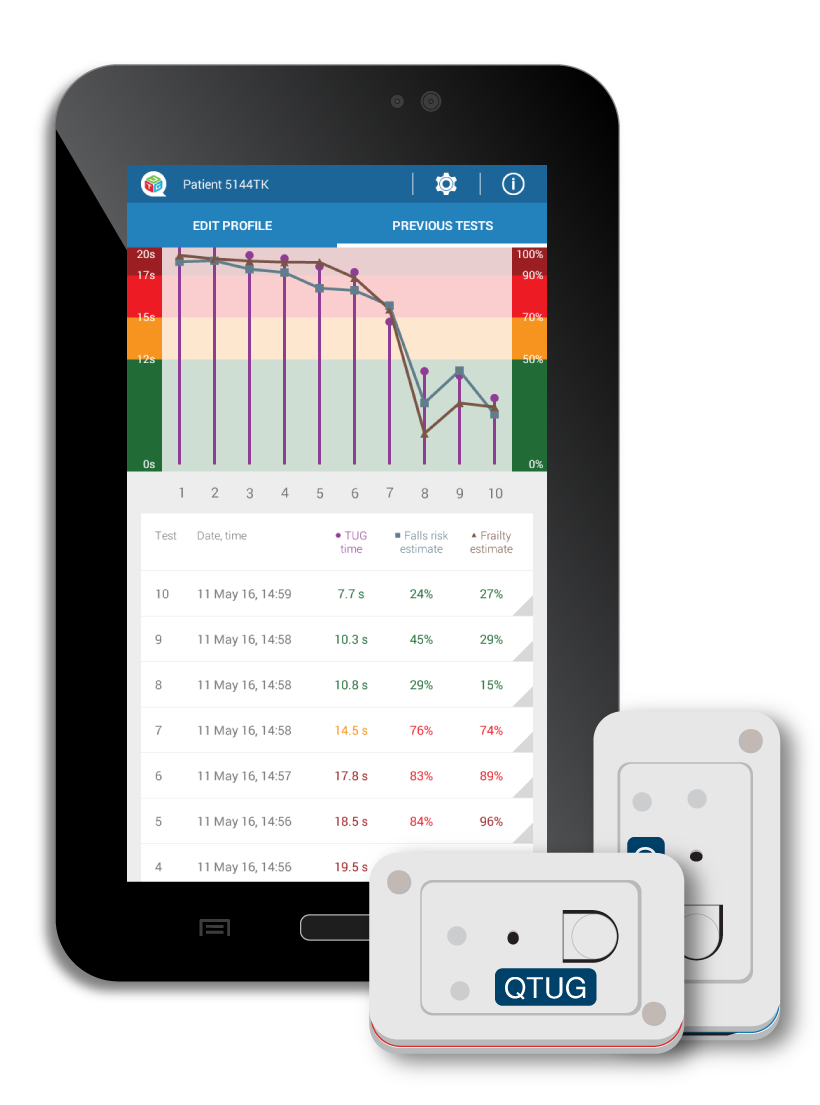 QTUG™, a Class I medical device based on 9 years of peer-reviewed research, is more objective, accurate and reliable than the standard TUG test and is used in primary, secondary and residential care to enhance screening services to identify older adults at risk of falls as well as to measure the impact and benefit of rehab and therapy.I have recently returned from San Francisco, after attending, pitching and winning the IAGG Tech Day Pitch event supported by Otsuka. This was a great gathering of thought leaders in the field of geriatrics and gerontology. The event provided us and other leading startups in the aging space with a great platform to get our message out. Like many start-ups, we started with bundles of energy coupled with lofty goals to take our product to market, gain traction and change the world – for the better. However, we have found the reality is that few enterprises, let alone start-ups, can make this happen on their own. That's particularly true in healthcare. Healthcare providers and payors are rarely just looking for products. They are often looking for solutions and services that require a partnership approach.It is critical not only to partner but to partner well. Finding an organization with whom you have alignment, but that also has the capability and the capacity to advance your market ambition through their strategic goals, is a very difficult proposition!Events such as IAGG Tech Day Pitch are not about getting business, but are more about spreading a company's story, growing its network and establishing relationships. It also provides an opportunity to sharpen messaging and get valuable feedback from industry experts. Competing with other start-ups for prizes like the IAGG prize is also very important since it enables companies to share knowledge and experiences and to offer a form of peer-support and encouragement.We were delighted to win the IAGG Tech Day Pitch award and have received huge exposure as a result. Working and interacting with companies like Otsuka gives small innovative companies like us a platform and a potential reach that is difficult for us achieve alone. However, we do see these relationships as symbiotic; start-up companies can have an important role in the innovation lifecycle of larger enterprises. We may just be one small piece in the jigsaw, but the picture cannot be complete without it! At Kinesis, our ambition is to advance the field of falls prevention around the world, promoting the use of technologies to improve screening, contribute to a reduction in the incidence of falls and improve the quality of care offered to patients across multiple care settings. Not a modest ambition but nobody ever changed the world by thinking small!
Contact
:Seamus Small, CEO, Kinesis Health Technologies, e: info@kinesis.ie t: +353-716-5401August 2017     01US17EUC0164
Back to blogs