Crowdsourcing Innovation in Eldercare?  We're Doing It! 
Mary Michael has the unique opportunity to work with trailblazing leaders both inside and outside the clinic walls to create innovative patient-centered solutions. It is her responsibility to understand how the world is changing across multiple disease categories, and she pulls together the thoughts, ideas, and research from a global array of key opinion leaders, patient advocates, technologists, caregivers, and more to incubate novel business solutions.
There are plenty of new, innovative ideas out there that could change the way we care for and treat aging patients.  Indeed, the geriatric care services market, which includes senior care centers,
is estimated to surpass $1 trillion by 2024
, and in the past few years, there has been an uptick in investment in technology start-ups focused on eldercare, including focus from Aging 2.0, Link-age Ventures, and Start-up Health. The trick is to create a way to shine a bright light on the best ideas – and to figure out how to make them a reality.And at Otsuka, we are trying to do just that.For the past two years, in association with
AGE-WELL NCE
and
Aging 2.0
, Otsuka has supported a pitch competition at the
International Association of Gerontology and Geriatrics
 meeting which encourages some of the world's most forward-thinking entrepreneurs to pitch new, innovative ideas and products that can improve the lives of older adults, caregivers, and healthcare professionals.  Their ideas are not only reviewed by a panel of experts composed of caregivers, advocates, researchers and investors, but by those attending the event, in a "shark-tank" style competition where new ideas are given voice and can be challenged and discussed by the crowd. For instance,
last year's winning idea from WinterLight Labs
involved technology that analyzes a person's natural speech to detect and monitor Alzheimer's Disease and other cognitive disorders.The hope for this competition is that not only do the winners take home some cash to put towards making their ideas a reality, but also that the event will help generate additional conversations that inspire other ideas and approaches.The full-day event just ended, and I'm excited and privileged to name the winner of this year's Technology Day Pitch Competition, Kinesis Healthcare Techonolgies! Kinesis proposed an objective tool for identifying older adults at risk of falling through their medical device, QTUG
TM
.  The technology reads wireless sensors placed on each leg, and provides an assessment of mobility, frailty, and falls risk.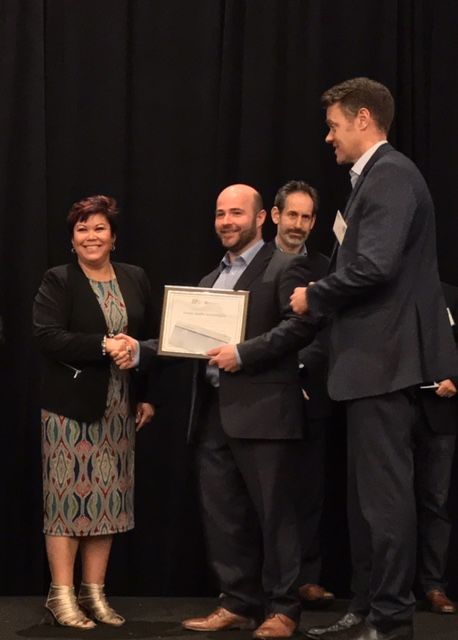 Pitch competition finalists gain significant industry exposure while the winners also take home a cash prize. But the benefits of this event extend beyond the winners and participants. All of us striving to make a difference in the treatment and care of our older generations gain from the competition.This is what innovation looks like: diverse stakeholders convening to discuss ethical implications and regulatory challenges emerging in the age of digital medicine. It wasn't always this way.  Our industry has traditionally been a bit more secretive when it comes to identifying new ways to support and care for patients. But we, at Otsuka, are always looking for new ways to surface creative ideas and concepts. We  recognize the power of crowds, and that the best ideas don't always come out of small, closed labs. When the opportunity emerged for Otsuka to help sponsor this Pitch Event, which brings together some of the top thought leaders in the industry, we knew we had to take part. What's in it for Otsuka?  The company benefits from the compelling ideas and energy put forth by the contributors; they inspire us to look for new ways to address the most urgent aging concerns. With over five million Americans now living with Alzheimer's disease and annual associated costs approaching $260 billion*, the need has never been greater for innovation in caring for our elders.And the venue for this Pitch Event helps ensure the right people are in the room.  The pitch competition  takes place as part of Technology and Aging Day in the larger IAGG 2017 World Congress which is attended by over 6,000 professionals in gerontology and geriatrics from more than 80 countries.  At IAGG, representatives from medicine, nursing, social science, psychological science, finance, policy fields, and other disciplines are gathered to discuss the latest approaches and innovations to improving the quality of life of the world's older adults.To help ensure we properly assess these creative ideas, we've assembled an outstanding panel of judges. The expertise and experience this elite group offers lifts the standing and character of this competition and contributes greatly to our success. The 2017 judges panel includes:
June Fisher, MD
Chief Elder Officer, Aging2.0
Jody Holtzman, MA
Senior Vice President, Market Innovation AARP
Brian K. Kennedy, PhD
Professor, Buck Institute for Research on Aging
Marwan Noel Sabbagh, MD
FAAN Director, Alzheimer's and Memory Disorders Division, Barrow Neurological Institute
Sarah Thomas
Senior Director of Global Innovation, Genesis; Innovation Fellow, Aging2.0
Murray Zucker, MD
Geriatric Psychiatrist and Healthcare ConsultantMost every company is talking about innovation in some manner. I'm happy to say Otsuka and like-minded organizations, particularly those participating in IAGG 2017, are demonstrating, embracing and encouraging innovation through events like the pitch competition. The inventions and advancements put forth in the pitch competition and the free idea-sharing I've seen throughout this week have proven to me that innovative ideas are not in short supply. They are all around us. But new ideas and methods need encouragement.Otsuka is listening.July 2017  01US16EUC0186
*Citation: http://alz.org/facts
Back to blogs