Clinical Studies Catch the Digital Wave
Developing a new medicine is a long, complicated process which,
according to the industry trade group, PhRMA, can cost $2.6 billion dollars on average and take as long as ten to 15 years.
This can lead to excruciating delays for patients and caregivers desperately awaiting new medications.Otsuka is doing our part to change this. We want to bring new medicines to people in less time by harnessing new technologies and platforms to accelerate and enhance our clinical trials.While many industry players wait for tech innovators to propose useful solutions, Otsuka aims to be a leader in implementing the best of today's technology to revolutionize the drug development process.We are re-imagining how solutions can be delivered to patients. We are also re engineering clinical trials to make the process better from the ground up for patients and clinicians alike which can both accelerate the clinical studies process and improve our success rate.
Re-Engineering Clinical Study Management
One way we can dramatically improve efficiency in clinical studies is by shifting to a truly paperless clinical trial process.In a traditional clinical study, all the various study sites and Contract Research Organizations (or "CROs") conducting the trials may have their own individually separate and distinct systems for collecting and processing data.For the company conducting the trial, this necessitates collecting, collating and integrating disparate data from all the sites and CROs for analysis. For example, patient consent forms, which are an integral part of any clinical study, are separate individual documents that each need to be uploaded before any patient data can be shared. Integrating all this data takes significant time and resources which, in turn, means that important information residing in this data can also take considerable time to analyze and act upon.We want to change this. We are re-engineering clinical study management with a single integrated, automated system that utilizes a unified hub to manage the clinical trial process. This means we can remotely conduct risk-based monitoring of all aspects of the study. This allows our team to immediately access information to analyze the study performance.With an integrated system, we can collect data from hundreds of sites in multiple countries on a single digital platform. The way our automated system allows us to so closely monitor the study performance was simply not possible before, and activities that once took 6-12 weeks can now be reduced to just a few days.
eTrial Solutions
This digital process of collecting, analyzing and submitting clinical trial data, known as an eTrial, promises to revolutionize drug development into a more efficient and productive business model.The graphic below illustrates some key features of the primary components of our eTrial system: eSource, eConsent, eScanning and Risk Based Monitoring & eSurveillance.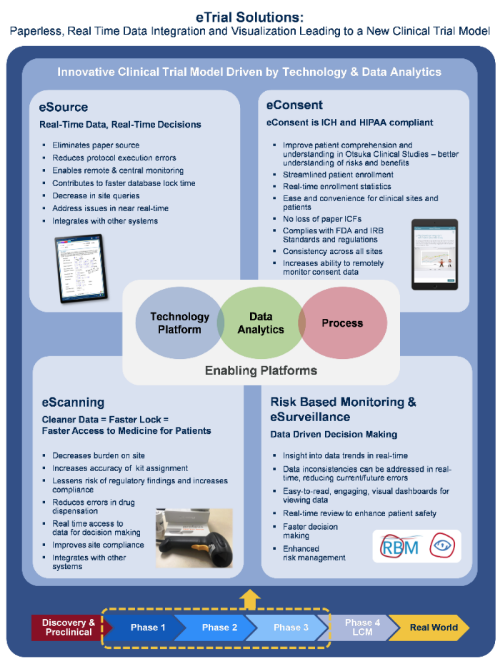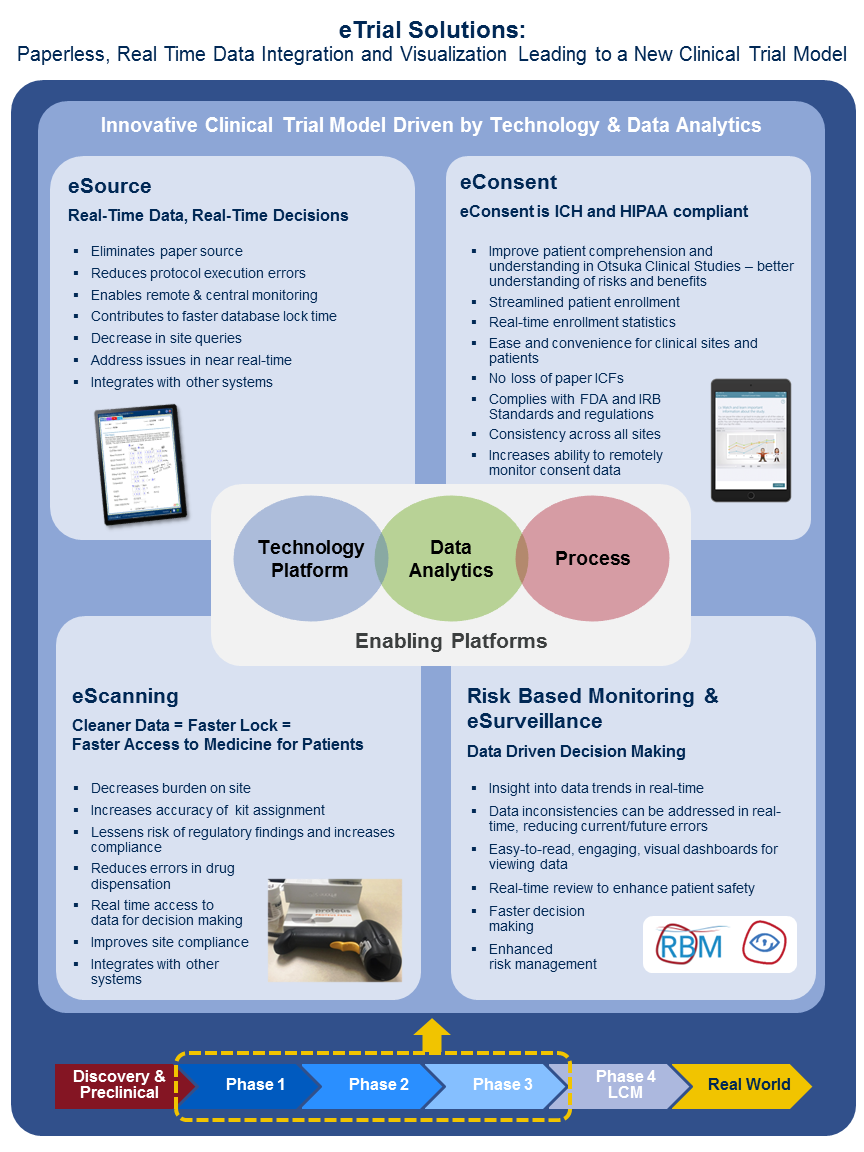 As part of this program, a small sub-study was recently completed and a new one is on the way: an industry-first study of an end-to-end eTrial, combining eConsent, eSourcing and eScanning of data within the digital platform.
Making it Happen
Streamlining site activities creates great advantage for our sites, offering tremendous opportunities to reduce timelines and enhance the overall quality of the data collected. But this takes a lot of coordination. Every partner we work with and every CRO that conducts our trials needs to be familiar with and incorporate our new way of conducting eTrials.We also need to make sure our staff is fully trained in the platform, so they can confidently ensure consistent implementation while being flexible enough to adapt to the needs of the markets they operate within.
No Boundaries
The tidal wave of Silicon Valley-led digital innovation has swept over many industries over the past 20 years – changing business models and creating new customer experiences that few could have predicted.The biopharmaceutical industry is no exception.Some of today's tech giants are betting on life sciences, recognizing the opportunities available by bridging healthcare and digital innovation. To achieve real results that ultimately improve patient health, we, too, must think outside conventional boundaries, examine new approaches and embrace innovative thinking. It is exciting to be able to employ technology so effectively, but our primary goal is always to serve the patients by developing new treatments for their needs faster and more efficiently.What are you experiencing? Please leave your comments below or
find us on Twitter
@OtsukaUS. July 2017    01US17EUC0122
Back to blogs