Rediscovering Ourselves
Kevin is the Senior Vice President of Otsuka-People, Business Services & Communications at Otsuka America Pharmaceutical, Inc., (OAPI). He has responsibility for overseeing all human resources functions for the U.S. business. He leads through transformational change and empowers employees to leverage culture to produce business outcomes.
At Otsuka, we thrive on challenges and pride ourselves in our pushing the limits every day. Otsuka-people power through the complexities of science and persevering through the unknown. Recently, our very own Akshay Vashit, director of Data Sciences, took on a challenge few would dare-- summiting Mount Kilimanjaro. He was looking for a new frontier to climb and brought Otsuka along the way. His experience of perseverance and unconventional thinking reflects the culture we are most proud of and we are excited to share his story with you.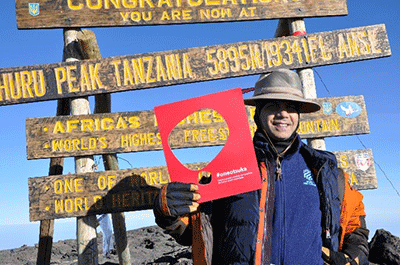 Rediscovering Ourselves
 Earlier this year, I feared that I hit a plateau where I was no longer challenging myself, or exploring fully what was possible.As someone who works on the frontiers of technology -- the development of artificial intelligence and machine learning approaches that one day could help transform how we deliver health -- the realization that I wasn't pushing myself was concerning. Innovation and complacency do not work well together. I decided it was time to recharge and to take, perhaps, a new look at myself, and the world around me.So, I decided to climb a mountain. In the process, I learned more about myself and what is possible when you set what some might consider to be insurmountable goals, and persevere to achieve them. It was a confirmation of the strength, depth and breadth of Otsuka values which when applied collectively will make anything achievable.My brother happened to be in Africa and we initially thought we would climb an active volcano in Congo and spend a few days around the crater. But as I thought about that trip, it didn't feel right. I needed something more to help unlock the inner me, and so we decided to climb Kilimanjaro.While a difficult climb, my journey up Kilimanjaro was more than just about physical exertion and testing my climbing ability. The journey was one of internal exploration. Originally, we planned this as an opportunity to reconnect; however, in reflection, it demonstrated how partnership builds perseverance to help achieve larger goals – something we are all familiar with at Otsuka.Kilimanjaro is one of the fabled "Seven Summits". We had planned a 7-day climb with guides and porters crossing 6 different ecological zones. The first day was a long hike through beautiful tropical rain forests full of life and precipitation. Walking in the rain was quite tiring but by the end of it we were above the rain clouds. While the rain had solved itself, I was disappointed because I didn't feel anything besides physical exhaustion. Our guide shared that we were hiking too fast and from there on the ascent would be steeper so a slower pace was advised.We ascended for three more days through different ecological zones, providing us with excellent views of fog, a little snow, and a lot of native plant species that can be found only on Kilimanjaro. Though a few others in our party had to discontinue due to altitude sickness, we acclimatized quite well and I was able to not just enjoy the physicality of the adventure, but the beauty and wonder of the world around me. The hike was counterintuitive because, on several occasions, we climbed down and that helped us to acclimatize to prepare for higher climbs ahead. Gazing at the stars one of those night, I realized that such counterintuitive regression is the beginning of perseverance through larger challenges for the goal ahead.Then came the day of the summit. We started around 1 am on what was clearly our steepest ascent yet. Fueled on tea and biscuits, we put on headlamps to see in the dark, and multiple layers as it was freezing and expected to be as cold as -10° F at the glacier on top.Hiking and partly climbing in the dark was challenging, but certainly doable.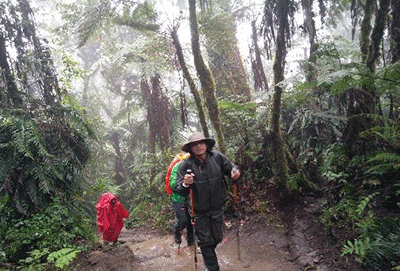 Then suddenly, around 3 AM, I ran out of physical energy. I have been in similar physical states during some of the longer climbs we had, but this seemed different. Due to a combination of a rocky climb, my physical exhaustion, and a lack of ambient light, I accidently fell into a dark crevasse-like cave. I thought that at best, my journey was at an end. Or, even worse, that I was injured. Thankfully, I was quickly retrieved and cleared of any injuries.The episode recharged me, and I was climbing again within moments.For about the next two hours until one of the most beautiful and brightest sunrises I had ever seen, I do not have a good recollection of events.  Instead, I transcended beyond the climb. I found myself in a place where the physical world and time didn't seem to matter. And while the psychological components that had influenced my thoughts were there, to some extent, they seemed secondary to something greater. I was left with this tremendous sense of my being. It cannot be fully described and no attempt will be made, but this was it! The experience I had been wanting and waiting for!There aren't too many places that can have effect on you like this. A place where you feel like everything comes together in the right balance. That balance transcends the physical fragility, and, instead of breaking, you come together. Mentally whether you break or not depends just on you and your confidence in knowing your current limit and ability to extend it. Physically we are all limited and breakable but the intellectual limits can be extended significantly one step at a time.As the sun finally broke the horizon, we started our final and steepest ascent towards the summit. We had been seeing our goal, the peak, for the previous three days but the apex was invisible when were so close. We summited early in the morning. I collected some rocks and spent a few moments drawing parallels between Otsuka, my Otsuka journey and climbing.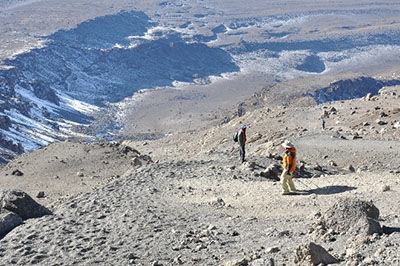 We at Otsuka work in mental health. We are at the forefront of defining mental health and providing holistic solutions by exploring and extending limits. We all think and persevere to reach great heights and pull others from lows to highs. Climbing or any other strenuous activity, whether physical or mental, requires a lot of perseverance. And perseverance is one of the main cultural values at Otsuka that is ingrained in all of us. As students of perseverance, we are all in the process of mastering the art and spirit of overcoming any setback, setting trends, and mastering even suffering. And, no, it doesn't dare to cross our collective Otsuka consciousness.As individuals, we do not know what is our best until we push the limit and deliver it. Otsuka is a place that allows and constantly encourages you to do that.Otsuka is not a place of work but a school of thought. It provides everybody an opportunity to rediscover, rebalance and redefine and relaunch. Otsuka's culture prepares us for extending frontiers. There aren't too many places that take pride in attempting that and being successful!
Back to blogs