Medimmunity: Just What the Doctor Ordered
Andrew Wright is responsible for leading the commercialization of wearable computing and digital products. Our goal is to enable improved patient medication ingestion and better-informed physician decision-making to tailor treatment to the patient's needs. Mr. Wright has more than 25 years of U.S. and Global experience in commercial leadership roles in the pharmaceutical industry.
As a leader in the challenging area of mental health, Otsuka searches for new applications of methodologies and technologies in digital health to improve the quality of care in patients with serious mental illness (SMI). Otsuka recently hosted the Innovation Zone, a competition at the American Psychiatry Association (APA) conference, with the goal of sponsoring a project proposal focused on digitally-enhancing patient care in SMI (Schizophrenia, Major Depressive Disorder, Bipolar Disorder). The winners, Dr. Jordyn Feingold, Dr. Anne Hart, Dr. Murad Khan and Dr. Isobel Rosenthal, proposed the app Medimmunity, which would provide educational resources as well as a digital space for medical students experiencing mental illness to connect anonymously. We interviewed the team to understand their vision for Medimmunity as well as their perspective on how digital innovation can impact the field of mental health.
How can the pharma industry and medical community work together to bring positive change in the arena of mental health?
Jordyn: Normalize conversations about mental illness! We will always need medications, and we also need to create a culture where it is okay to talk about what is going wrong. Mental illness is rampant in the medical community (among students, doctors, nurses), and despite the fact that clinicians should know better than anyone that mental illness is a disease, just like physical illness, many of our own colleagues in the healthcare field do not receive adequate services because of perceived stigma and because of the fear of not seeming equipped to take care of patients. In the medical profession, if someone thinks you are too sick, too weak, or even incompetent, you could lose the ability to treat patients and practice medicine. And truly, it would be incredibly challenging to deliver high quality care to patients when you, yourself are struggling. The reality is that those who are struggling need to know they are not alone, and access support as early as possible. Starting early, rather than waiting until people are truly suffering, is important. There is also a pervasive misconception that everyone around us is doing so well—what we see on social media platforms can really skew our perception of reality—and there are opportunities for other platforms, such as Medimmunity, to normalize the idea of proactively developing skills to promote our mental health. What we have learned is that there is immense value in bringing people together to share their experiences and learn about how others sought treatment.
What is your vision for the tool and its impact on mental health?
Isobel: Our work over the past few years and experiences as medical students have highlighted for us the importance of connection between clinical trainees. We want to create a space where students can be part of a national community, and share their experiences with others across the country, who are training in different institutions.In terms of the potential impact of the tool, we hope to create a digital community where students can have access to someone in the medical community that can guide productive discussion and equip users with coping skills and resources. I have long been interested in how to expand access to behavioral health services. We believe if trainees felt better supported, they will be empowered to create structural change for their peers, and patients.
Why do you think Medimmunity will be an effective app for students experiencing mental wellness issues?
Murad: I see the app as an opportunity to connect students across medical schools nationally. PEERS was conceived in the context of how pervasive mental illness is in the medical community. Many medical students are depressed and even more experience burnout.
Medimmunity
not only has the potential to connect people experiencing shared challenges, but also a tool that can leverage collective input to create structural change. My interest in empowering communities to change the way we think about mental illness is what drew me to this product. For example, we might consider: what are the policies that make burnout so common? Is student wellness prioritized or are we more concerned about test scores and match results? What expectations do we have of physicians and health care workers more generally? I see
Medimmunity
as a way to have this conversation at a more grassroots level so that the voices of those most impacted are amplified.
What is your vision for positive change within the health care industry?
Annie: Increased understanding of stigma and the spread of education to various populations is possible when different institutions and people work together. For example, continued collaborations like the one between Otsuka and APA to sponsor the Innovation Zone contest can lead to great opportunities to help improve health care. I believe collaboration is very necessary across different fields to enable innovations and solutions. The desire to help people is what draws us to what we do in health care. We cannot lose sight of humanity within our industry. When there is a sense of connection from person to person, rather than silos, we can work together to improve overall access to care so that individuals can overcome barriers to receiving care. I was a trainee at a VA hospital and one of the biggest hurdles I saw was access. We can work together to help patients know about available resources and help to ensure they can afford them. Even in medical school, we have a robust health community, but it takes time to go to therapy if you need to. So, limited access can happen in so many ways in different populations.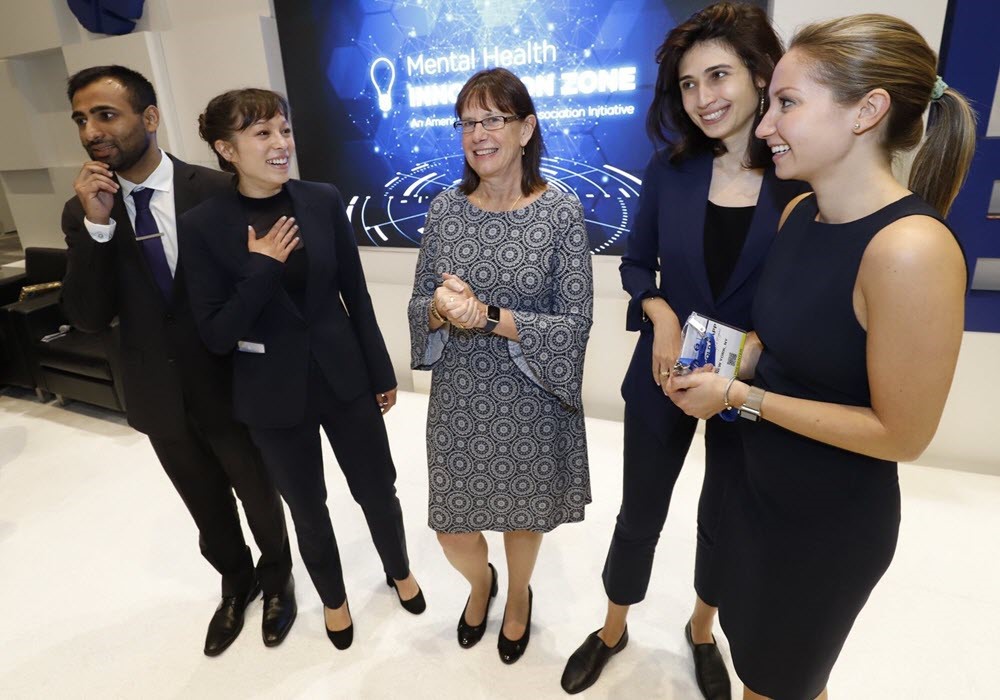 From left to right: Murad Khan, MD, Annie Hart, MD, Psychiatry Innovation Lab judge Debbie Profit, PhD, Isobel Rosenthal, MD, MBA, and Jordyn Feingold, MAPP and MD/MSCR candidate. Photo courtesy of David Hathcox.
Back to blogs