A Labor of Love: Restoring Homes and Hope in Puerto Rico
Lucy leads the Corporate Communications and Public Relations functions at Otsuka. She is committed to creating and executing digital, social and corporate marketing strategies to promote core company strengths in an inspiring and innovative culture that is grounded in Japanese roots. Lucy has over 20 years of experience in global digital and social media marketing, corporate communications, broadcast, print and web journalism. She serves on the Rutgers University Design Thinking Advisory Board and volunteers as a Girl Scout Troop leader.
A couple of months before Broadway star Lin Manuel Miranda brought
Hamilton
to his beloved Puerto Rico, I embarked on my own journey, along with 9 of my Otsuka colleagues, to the hurricane-ravaged U.S. territory. Although there was no singing or dancing during our trip, we shared a common goal – to fill a void and offer help and hope to our fellow Americans.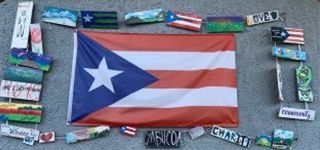 In November 2018, Otsuka Cares, in conjunction with the disaster relief organization,
All Hands and Hearts
, set off on our first hands-on relief mission. Otsuka has always contributed to natural disaster programs in collaboration with established foundations and organizations. But 2018 was a critical year for us to give back more and in a different way. In 2017 the United States experienced a record number of 17 hurricanes and, for the victims of many of them, We wanted to do more. Our employees have been seeking opportunities to get involved in more hands-on work at a deeper level, and here was our chance.The selection of Puerto Rico as the first destination for the Otsuka Cares disaster relief program was particularly meaningful for me on both a corporate and a personal level. After a conversation with our Vice President of Technical Operations, John Sokol, we pulled together a team and started exploring the idea more. What else could we do? We knew there was a larger role our company could play as a caring corporate citizen. This mission provided a wonderful opportunity for us to take a stand, be change agents, and do more for U.S. citizens that were in dire need. But Otsuka's and my personal connection to Puerto Rico goes even deeper. 

We focused our efforts in the town of Yabucoa, which had been in the path of Hurricane Maria. Coincidentally, Humacao is also the neighboring city to the town where my dad grew up, Las Piedras, and where members of my family still live, the place where I spent time as a teen going to the beach with my cousins. Another reason why I felt compelled to be a part of this mission.    Because Yabucoa is in a rural area it has a different infrastructure than major cities like San Juan, which put it at a disadvantage from a relief perspective. It took much longer to restore electricity to Yabucoa and for the town to receive some of the major support provided by the U.S. government.The first few days there were very emotional for me. I was overwhelmed by the devastation that had struck the island, but also heartened by the volunteers that came together from all over the world and all walks of life to help make a difference.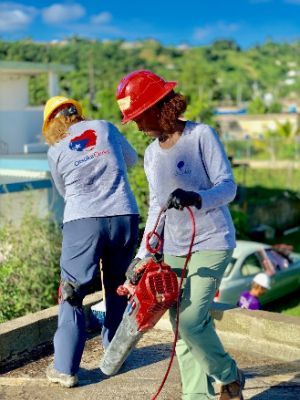 Parts of the once vibrant, bustling downtown resembled a ghost town. I was saddened to see the boarded-up restaurants and dark storefronts. But in the residential areas the devastation was especially palpable. Eighty percent of the destruction was roof damage. Mold infestation was also a huge problem and posed a major health crisis. The contrast with the surrounding countryside was stark. The rich, green forestry area lining the wondrous mountain tops were starting to fill in again after being gray for so long. Volunteers rose every morning at sunrise to suit up, pack supplies and start rebuilding. My group walked to our site on most days and were greeted by appreciative smiles and waves from children heading to school, parents on their way to work, sometimes entailing a two hour commute each way, and local business owners, just visibly happy that they weren't abandoned… that the world did care. That help was indeed here. We saw the town slowly coming back to life, and to me that left a lasting impressing that I will carry forever. At the house where I worked we spent four out of the five days repairing the roof. Most of my week was spent scraping the roof, then covering it up with sealant, and painting it. It rained every day and we were out there with rags soaking up the water so that we could work again. On the last day we went inside the home to remove mold and sanitize the house. Every room had visible mold. It hurt my heart that families were subjected to living in dangerous and unhealthy conditions which they had little control over; they were at the mercy of volunteers and government support that may never arrive.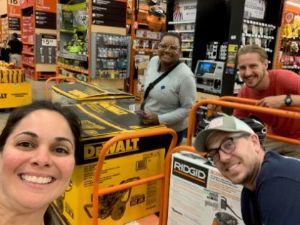 In one week, my group was able to provide a family with a refurbished roof above a home where they could live safely. It was the most physical labor I've done in my life but also the most rewarding. I was so proud of how Otsuka people rolled up our sleeves and welcomed the challenge. We did it with joy and love and it was so refreshing. Experiencing the selflessness of the volunteers was one of the greatest rewards and knowing that our company arranged and supported it made me proud. Both our on-site team (Greselda Butler, Rob Bissett, Kivy Cabello, Jim Grafmyre, Nick Keysock, Shelia Mason-Henry, Shawn O'Brien, Derek Sudduth, and Karen Gally) and our executive sponsors (Kim Martin, John Sokol, Kevin Donovan, Kabir Nath, and Dr. Bill Carson), not only represented our organization in a positive way, but also embodied the spirit of Otsuka and our principles of Jissho, Diversity, and Perseverance. And we could not have achieved this without the guidance and leadership of All Hands All Hearts and their vision, resiliency and organizational dexterity. They were here since the beginning and provide training, a sense of community, deep ties to the residents, and ultimately, a place for the world to be better together.I learned so much about myself, my colleagues, and about the resiliency of humanity. I'm incredibly proud to work for a company that enabled me to do this. An idea was sparked and fueled by the enthusiasm and effort that everyone contributed, from the leadership team to the on-the-ground volunteers to the Otsuka-People in general, producing electrifying flames of hope and restoration. We had 70 applicants sign up to live in tight quarters, on bunk beds, partially blinded to if they'd be painting churches, sanitizing houses or facing fears of climbing ladders to repair roofs all while leaving their family, friends and work behind. I know this is probably cliché, but what we gained on this trip far exceeded what we gave, and I wish I could spread that message as far as the sun's rays reach. Hopefully, this is just the beginning. We were able to make a difference in just five days, but there are 800 homes that may not get help for another year.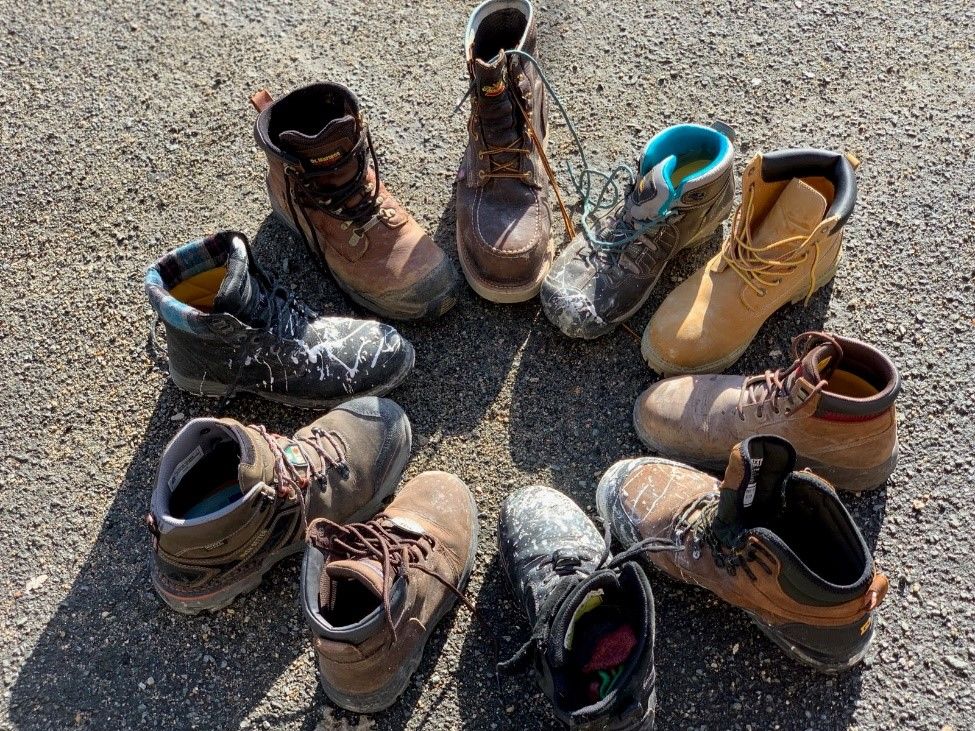 Serving others doesn't have to be on a grand scale.  Need is abundant in our world and can be overwhelming at times. Start small, pace yourself, and remember, help is help. Even if it's just one person, you've made a difference to that person. Find something that you're personally interested in. You can always find someone somewhere that can use your touch. Everyone has a gift and if you share your gift with the world that's a part of volunteering. If you don't know what your gift is yet, keep trying different things until you find what makes you happy and I guarantee it will be received with open arms.Looking for ways to give back in your own community?Here are a few ideas:
Offer to Help Family
Home is where the heart is. You don't need to travel far to make a difference in someone's life. Older family members may be reluctant to share their growing frailty, loneliness, or isolation. Small acts such as dropping by for coffee on a Saturday morning, taking them to a movie, accompanying them on a shopping trip, or inviting them to your child's soccer game or school play can brighten their day.
Volunteer at Your Local School
With limited budgets, schools rely on community involvement. Whether you read stories to elementary school students, help out in the cafeteria, chaperone field trips, or spend a Saturday beautifying the school grounds, your small investment of time will pay dividends in the future.
Visit a Senior Center
Too many senior facilities are filled with residents whose families are gone or are unavailable. An hour or two a week can make a huge difference in the attitude and outlook of the residents, and a great way to learn from those who have already traveled the journey before you.
Coach a Local Youth Team
Playing sports teaches kids teamwork, responsibility, and the joy of being physically fit. Unfortunately, many kids don't have the opportunity to participate in sports because there aren't enough coaches or assistants. If sports are your passion, there are always openings for compassionate teachers and volunteer coaches.
Become a Tutor
There are many opportunities to educate others and students don't have to be just children.  Teaching literacy or helping someone to learn English can change a person's life. Academic subjects are not the only ones that need tutors – introducing and teaching others about computers and the Internet is needed everywhere, especially in the senior community. Life skills, such as cooking, sewing, and home repairs, are in demand for all ages.
Fix and Serve Meals
Volunteer at a local soup kitchen or for an organization such as
Meals on Wheels
, which delivers nutritious meals, warm smiles, and a safety check.
Become a Docent
Museums, art galleries, zoos, and universities frequently need trained guides. Docent training is usually provided, so the only qualities necessary are enthusiasm, patience, flexibility, and passion.
Be a Good Neighbor
Participation in a neighborhood organization builds a sense of community and provides valuable services to those within the neighborhood. Many neighborhood associations have community watch programs, beautification projects, and opportunities to represent the community in local government.
Volunteer at a Hospital
Hospital volunteers provide vital support to hospitals, and offer comfort and convenience to patients, families, and visitors. Volunteer opportunities include everything from manning information booths, to sitting with patients or working with children. Hospitals have a wide variety of volunteer needs that are suitable for all ages.
Back to blogs