The Promise of Digital Health
Andrew Wright is responsible for leading the commercialization of wearable computing and digital products. Our goal is to enable improved patient medication ingestion and better-informed physician decision-making to tailor treatment to the patient's needs. Mr. Wright has more than 25 years of U.S. and Global experience in commercial leadership roles in the pharmaceutical industry.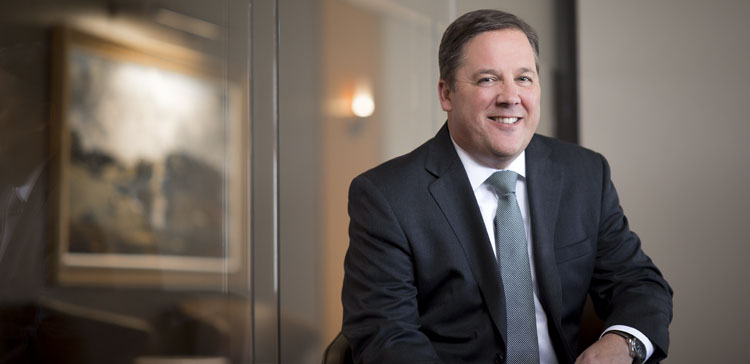 Futurists like Ray Kurzweil predict digital technology will take us beyond the limitations of biology to not only better understand the software of life, but to blend man and machine.Dubbed the "singularity,"
according to Kurzweil
this blending of man and machine will not only reduce the incidence of disease, but ultimately, extend life and perhaps hold mortality at bay.While some may dismiss this as science fiction, there is no doubt that the application of digital technology to health may change how people and professionals manage their health. From identifying patterns that could provide insights into disease progression, to ensuring the appropriate use of a medication, "digital health" tools could help provide data and insights that could change behaviors or approaches to managing different health conditions.In the near-term, the promise of digital health has spurred massive investment into analytics, artificial intelligence, machine learning, mobile, and sensor technology and applying it to everything from drug development, to the creation of new products and healthcare services. Every year brings new advances. From the ability to leverage big data to better understand the spread of disease in human populations, to wearable sensors that track biological changes in the human body that help us understand the mechanisms beyond different disorders.In 2016, funding into
new digital health start-ups topped $4.2 billion in the US
and this year is on track to top that number.My colleagues and I at Otsuka likewise believe in the promise of digital health.We have a variety of projects underway to take emerging technologies to improve clinical development, to create new healthcare services, and to enhance how our medicines are used. 
From the work of Margaretta Nyilas, M.D.
to "catch the digital wave" and accelerate clinical development, to
the project I'm managing to create the world's first Digital Medicine
, we recognize the transformative potential of this digital revolution on all aspects of human health.But as William Gibson said, while the "future is already here, it's just not very evenly distributed."The reality is, that while digital technology in healthcare holds a great deal of promise, the application of technology often doesn't always translate well to healthcare.For instance, we've all seen the massive growth in fitness-focused wearables such as fitness bands, watches, and clothing. You may even be wearing one of those bands as you read this post! However,
a recent survey found
about 18% of those who bought fitness bands in the past year, no longer use them. The number is higher (22%) for smartphone watches and even higher (about 33%) for clothing. That doesn't mean that there isn't still a huge opportunity for the application of wearables in health. Far from it. What it does mean, however, is that some of the applications of fitness-focused wearables haven't yet hit the mark to provide real benefit for users.Working in the pharmaceutical industry, I've seen the launch (and demise) of a variety of different product or disease-state related mobile health apps. Unfortunately,
the drop-off rate for mobile health apps is even higher
than for different fitness-related wearables – estimates vary, but the consensus is about 80% of those who download such apps stop using them within a few months.There are, of course, notable exceptions. Wearables and mHealth apps that provide real, personal benefit, timely reminders and the ability for the user to act on the data, tend to have a higher level of use. A great example are continuous glucose meters, that provide people with diabetes a real-time assessment of their glucose levels that can encourage them to change behaviors or inject insulin.
A recent review of studies
into the use of continuous glucose monitors has found that their use has improved the management of glucose levels in patients with diabetes.The real opportunity is to leverage passive sensors to collect data and information that then leads to behavior change that nudges the patient to take action that becomes effortless and second nature. Patients are often disengaged when managing their health, and creating a frictionless environment, where that data is collected and acted upon, without the need for the patient or caregiver to feel like they are having to make a significant change, is the long-term key to success.
Though the development of new mobile health apps, wearables, and the internet of things continues at a rapid-fire pace, the real, meaningful impact of these tools hinges on their ability to change behaviors among patients, health care professionals, social workers or others involved in the healthcare system as well as family members, and care givers.To do so, however, depends on the ability of the digital health tool to not only provide a great user experience, but to fit into the existing physician flow and the patient journey, and to provide a benefit that the user embraces as meaningful.  The end goal should always be for digital technology to provide information, services, or actionable data in the context of the typical health journey so that outcomes could be improved.The philosophy that I've brought to Otsuka is that to be successful, digital technology needs to provide value and a great user experience that encourages engagement.For these new digital tools to be successful over the long term, the data collected about actions, activities, need to be translated into actionable insights that patients, caregivers, and healthcare professionals can leverage to inform decision-making and change behaviors and actions that can ultimately improve health outcomes.By making a digital tool or application engaging, we can encourage the user. This, in turn, can help us collect data and information, present the data collected in meaningful ways to the user, or encourage the user to take action or change their behavior.  In the case of digital applications, some ways to encourage engagement include:
Presenting features & functions in a visual way vs. tex
Making it easy to find what patients and physicians need
Making it social
Making it easy to find help/support
Anticipating needs and delivering fresh solutions
Educating users on the best ways to maximize their use of the app
Offering interactive "fun" content   
I've tried to apply this guide to help direct what we are doing here and I'm hopeful that what we create will be a successful new way to manage difficult medical conditions. Time will tell whether the projects we have underway will provide this value.By applying these standards, we can leverage digital technology in such a way that it helps to improve how we deliver healthcare, and, ultimately, improve people's lives.That, in the end, is what we aim to do.Through engagement, we can encourage behavior change seamlessly, thereby offering greater value for the user, which in turn encourages greater use which ultimately creates more useful insights. In the end, that engaging, valuable application helps create the behavior change needed to improve outcomes.
Back to blogs