Transforming the Pharmaceutical Industry: Why Are We Still Conducting Business Like It's 1988?
As President and Chief Executive Officer of Otsuka Pharmaceutical Development & Commercialization, Inc. (OPDC), Dr. Carson serves in a hands-on leadership capacity that has been instrumental in establishing new alliances, developing new compounds, and ensuring the company remains at the forefront of R&D activities. As part of his efforts, he has been highly successful at presenting innovative ideas and securing approvals, which has contributed to Otsuka's continued positive advancement.
The pharmaceutical industry as we know it is being reimagined. Will we be ready? Will we help to re-engineer its future business model, value and products for our customers or will we be left dangerously behind?We are living in interesting times of hope, chaos, and the reality of our professional and personal oaths to help improve lives. While other industries have incorporated new digital and analytical tools into their business models to drive growth and increase efficiency, the pharmaceutical industry has been slow to make the business transformation. Ironically, for an industry that thrives on cutting-edge science, we tend to cling to the old ways of doing business. Whether it is how we develop new products or how we sell them, we often behave like a taxi company in the face of Uber and turn our collective backs on new technological solutions. While it is somewhat expected of a highly regulated industry, the pace of adoption seems slower and the cycle times are still in years compared to weeks or months in the technology sector.But it doesn't have to be this way.Pharma can adapt to build new competencies to integrate science and technology into the drug development process and create new product offerings. In fact, the rapid pace of technology will require us to do so. We are faced with a fast-changing global healthcare market, where technology, reimbursement models and consumer expectations are changing how healthcare is delivered and managed. But herein lies our opportunity to better leverage tools like big data, predictive analytics and the "Internet of Things" (loT) to accelerate drug development, to help improve health outcomes.We know this already. A recent survey by Accenture Consulting* of research and development executives around the globe found that, unsurprisingly, their top priority was to improve patient outcomes. The survey also found these same executives recognized that emerging digital tools and approaches would have the greatest impact on helping them reach that goal.And there are many ways that digital tools could help transform clinical development.
Innovation Unlocks New Standards
For years, broad genetic data on a huge number of people has been collected and collated. When combined with real-life disease data and the application of predictive analytics, we could have the beginnings of a road map for the development of targeted, personalized treatments. The use of genetic information has been proven useful for many cancer drugs to enrich patient population, but the large scale promise of new targets aiding drug discovery still remains elusive.While many companies are approaching drug discovery in precisely this way, opportunities remain to leverage the wealth of genetic information. The key to unlock true personalized medicine and transform discovery is to contextualize genetic information with other important sources of information (behavioral, socio-economic, environmental, etc.) because the health outcomes are multifaceted and genetic information by itself cannot provide the panacea.Consider the IoT as a treasure that will unlock that context through various wearable sensors and digital biomarkers to further the vision of personalized medicine.IoT will also provide opportunities not only to reimagine an unsustainable business model that takes 7+ years and >$2B to bring a new therapeutic treatment to market but also create new product offerings from the pharma industry. When applied to clinical study management, wearables could play a significant role in accelerating drug development and reducing costs.Through sensors, we can track and monitor biorhythmic data from clinical study participants in the home. Once widely applied, this could have a significant impact on the speed and ease by which trials can be conducted. Not only could such a system mean that study participants would not need to travel to study centers to share their data, but by harnessing these data collection tools, we can accelerate the collection and analysis of data. IoT is coming to clinical research and we should all be ready to adopt it.In addition, the more efficiently we can track patient experiences in real-time, the faster we can make decisions around study design and execution as well as collect more data that would allow us to understand drug safety and efficacy profiles better.This is something we at Otsuka are already exploring, but such technologies need to be applied more broadly. We are only just starting the journey of digital medicine in pharmaceutical research. The broad transformation of pharma will require a change in culture, execution, strategy and outlook of our products for patients, caregivers and healthcare professionals.Indeed, our industry has been slow to apply digital technologies in clinical study management. As discovered through the Accenture study, while more than half of respondents said they were "all in" on digital, 42% reported that they were still in the "exploring" stages of adoption. Even more surprising, other members of our industry are still in the "wait and see" phase.What are we, as an industry, waiting for?I often hear how the many barriers hold us up, from the cultures of our organizations to the regulatory environment we operate within. But these are not insurmountable. To that end, I propose a few approaches for consideration.
Holistic Business Transformation
One of the major hurdles is a lack of understanding of how digital tools could be applied and an internal culture reluctant to embrace new approaches. At Otsuka, we recognize the importance of an adaptive culture and having leaders who are willing to take chances on new ways of thinking. However, many companies find it difficult to alter their institutionalized ways. But such cultural shifts are integral to the successful integration of digital technologies to change or replace existing, old-line business approaches.To do so may require training and education to better understand the nature of the tools available and how they can be applied. But it may also require bringing in new thinking, even from outside of our industry, to encourage the adaptation of approaches that are outside of the norm.Another major concern often cited is privacy. Here we can tap into our own internal resources and expertise as an industry to help assuage concerns. We may identify and adopt standards on everything from patient privacy to how we protect intellectual property. By establishing fresh industry standards we can help head-off or shape legislation.We believe we have many opportunities to transform business by integrating digital technology. We can transform clinical trial models, leverage big data to find better value for existing products and create new therapeutic solutions for patients. These are not easy goals by any standards but the time is now.
Clinical Trial Transformation: A quick win towards adoption
We need to strategize innovation by balancing the focus on the future with achieving business outcomes. Let's prioritize innovation when it comes to our clinical trial models to adopt digital tools and pave the future for other goals. At Otsuka, we are integrating digital solutions into all our clinical trials. This provides greater value to patients and new solutions for the future. eClinical Trials can reduce trial time to get drugs to patients faster, provide better data by decreasing protocol execution errors, and harness efficiencies to reduce costs. We are starting off with an aim to reduce costs by 10% with more to come.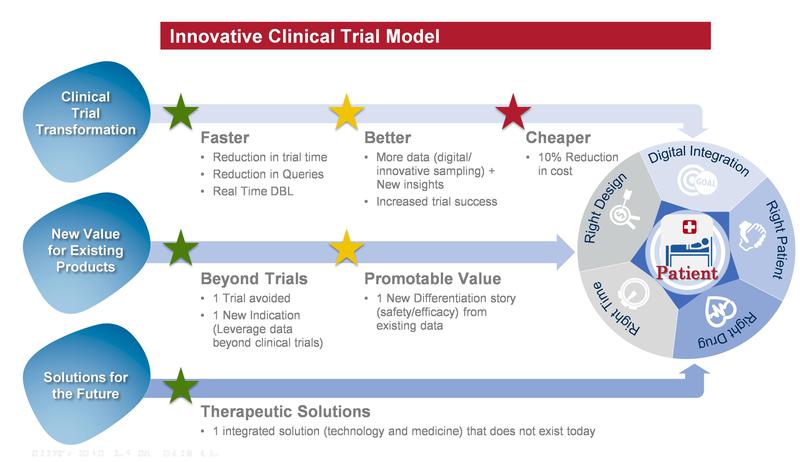 In this new ecosystem data is flowing in real time from multiple sources, often from technologies and vendors new to the pharma industry. An eClinical Trial Model allows us the ability to move to a paperless, real time data integration system–and that's exactly what we have done. We are leading the industry by taking cumbersome, paper-based technology and going digital by investing in enabling platforms of data analytics, technology and process. These innovations are standard and are being applied to all new Otsuka trials. Our future is now.Let's stop conducting our business like it's 1988 and work together to transform the Pharmaceutical Industry. We are living in interesting times and have a fleeting opportunity to create bold, historic innovations. Let's not be left behind.Patients are at the core of everything we do–we cannot lose sight of that. Someone out there needs us. Collectively, through the integration of pharma and digital, we will improve patient comprehension, better understand risks and benefits, streamline patient enrollment and increase the ability to remotely monitor patient consent. Moreover, we will provide an improved patient-centric consenting model.Clearly the pharmaceutical industry is at a crossroads when it comes to adopting digital solutions. These new methods in research, execution and efficiency could hold the key to our collective survival.I'm ready to talk. Let me know your thoughts on the use of digital applications in the pharmaceutical industry.
*Accenture Research Footnote
March 2017     01US17EUC0031
Back to blogs