Otsuka Commissions "Light the Way" - An Interactive Art Installation that Celebrates PKD Research
June 17, 2019
–
Princeton, NJ
- Otsuka America Pharmaceutical, Inc. (Otsuka) has commissioned an innovative and interactive digital art installation, "Light the Way", which is currently on display at University of Kansas Medical Center (KUMC) and will remain there throughout the year in honor of polycystic kidney disease (PKD) researcher Jared Grantham, M.D. and the clinical trial participants who advanced PKD research. The interactive element of the artwork is triggered by motion-activated infrared sensors, which allow passers-by to wave and cause multiple colors to ripple through the piece. The sensors also trigger a change in the soundscape, causing another shift in the sensory environment. On June 13, KUMC hosted a ceremony to dedicate the installation and to recognize the years of research by investigators, physicians, nurses, and the courageous patients who have made a profound impact on the field of PKD. 
An interactive ripple effect

The journey from idea to installation began in November 2017 when Otsuka began exploring ways to honor the critical contributions of researchers and clinical trial participants who made scientific advancements in PKD possible. The intent of "Light the Way" is to creatively mirror the way Grantham's work rippled outward touching the lives of countless people worldwide. As viewers interact with the artwork, it responds with changing colors and sounds, echoing the profound effect one person can have. Additionally, every time the #PKD hashtag is used on social media, the artwork responds similarly – amplifying the reach of individual conversations. 
It takes a village
Just as it took a broad collection of people with varied talents to bring Grantham's vision to fruition, a team of artists worked across multiple disciplines to bring the 800-pound "Light the Way" piece to life. More than 20 programmers, installers and designers collaborated on the artwork, which was digitally sculpted to bring dozens of orbs into visual harmony with hundreds of LED lights that produce a starburst effect when the work is triggered. "Science is a collaborative endeavor," said Iman Ahmed, associate director in Otsuka's nephrology division. "It takes a village — including clinical trial sites around the globe. By connecting this artwork to the internet, we remind viewers that not only do their thoughts and actions ripple outward and touch the world; countless others impact them daily, in ways they might not even know."
How to get involved
The hashtag #PKD triggers lights and sounds to respond in the artwork. Share your thoughts on social media using the hashtag.
Watch, like and share the video to learn more about the making of the installation.
For more information about the "Light the Way" installation, visit the
KUMC Website
.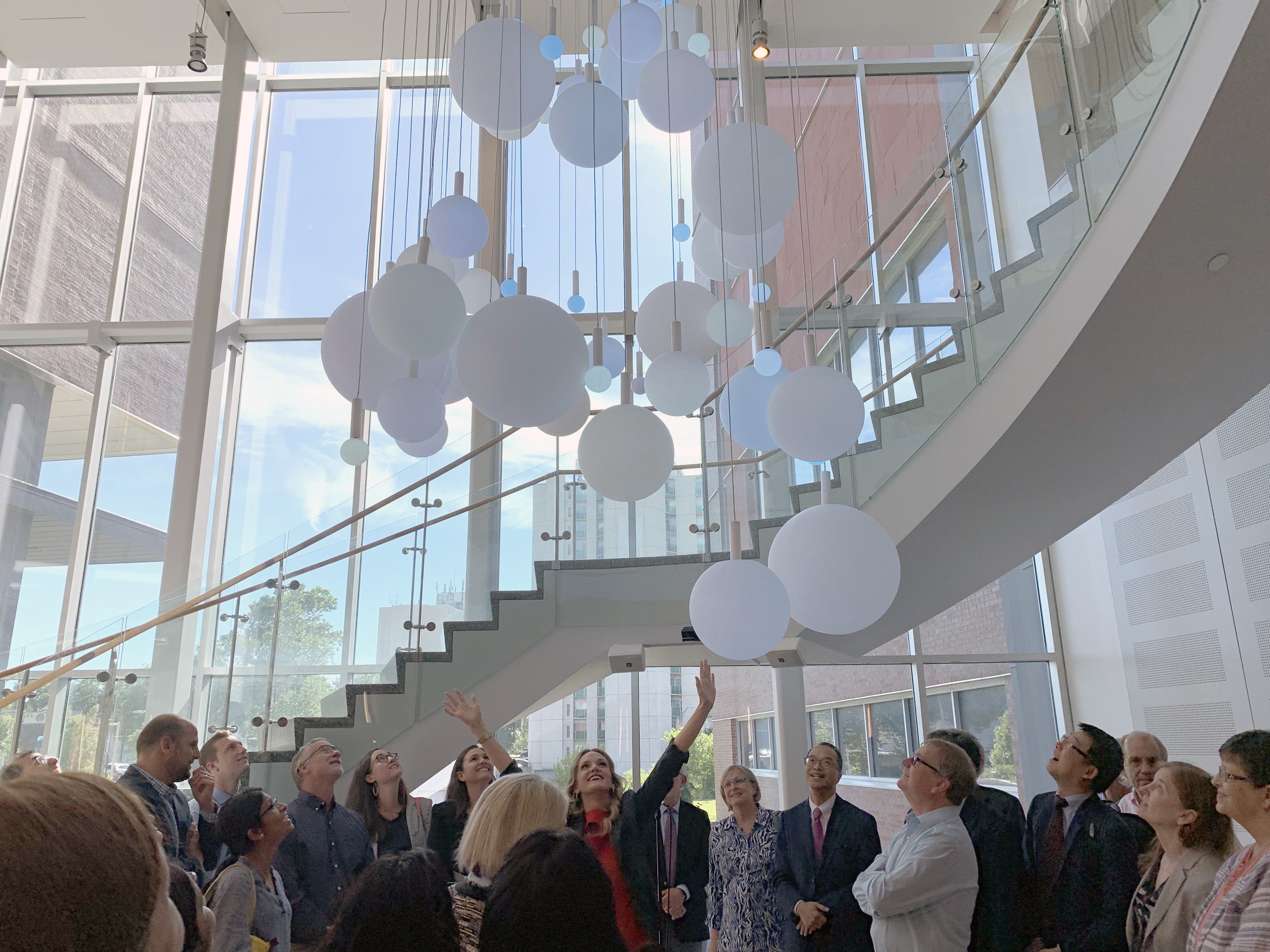 June 2019
01US19EUC0164