We Focus on Unmet Medical Need
In the U.S., Otsuka focuses its creative energy and innovative ability on three main therapeutic areas:  neuroscience, oncology and cardio-renal. Our aim is to help people with diseases that range from affecting millions to those that affect relatively few. 
"Otsuka's mission is centered on making the world a better place through improved health."
Neuroscience
Otsuka's commitment to providing innovative solutions for mental health disorders for patients and their families began more than 30 years ago. Great perseverance by our scientists led to the research and development after 20 years of investigation of the world's first atypical antipsychotic drug, that is a dopamine D2 receptor partial agonist, providing an additional treatment option to those living with psychiatric and neurological disorders. Subsequently, we developed the drug still further to create a once-a-month injectable preparation that can help patients maintain their therapy.
Schizophrenia & MDD
Another recent medical milestone for Otsuka was the launch of a new drug to treat schizophrenia and also to be used as an adjunctive therapy to anti-depressants in the treatment of major depressive disorder (MDD), a debilitating condition that affects around 15 million people in the U.S.
Pseudobulbar Affect
Another area where we are addressing unmet health needs includes those living with Pseudobulbar Affect (PBA) which causes them to laugh or cry involuntarily as a result of brain injuries or neurological conditions such as a stroke, multiple sclerosis, frontotemporal dementia, or Alzheimer's disease.
Alzheimer's Disease
We are also passionate about making a major difference to the lives of people suffering with Alzheimer's disease, through investigating new drugs that may slow disease progression, enhance cognition and reduce agitation. Several such drugs are currently undergoing clinical trials. Other neurological conditions R & D scientists are working on include Tourette's Syndrome, epilepsy, Parkinson's Disease and autism.
"Otsuka's perseverance in the development of neuroscience products has had a profound impact on people suffering from mental illnesses."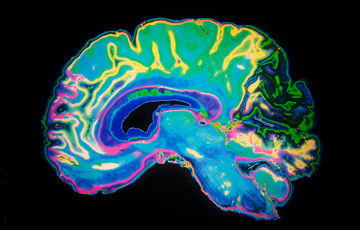 )
Oncology
Otsuka is determined to provide new treatments for individuals diagnosed with cancer. Our main area of interest is blood cancers, such as leukemia, that can have high mortality rates. We currently provide a treatment for patients with myelodysplastic syndrome as well as medication used as a conditioning regimen, prior to allogeneic hematopoietic progenitor cell transplantation, for chronic myelogenous leukemia. And in conjunction with Bristol-Myers Squibb, we promote a medication to treat chronic myeloid leukemia. We invest heavily in cancer research, both in our own research facilities and also through collaborations with other companies. We believe that this can accelerate the journey from laboratory to treating patients. Drugs for acute myeloid leukemia and acute cancer pain are examples of our collaborative efforts.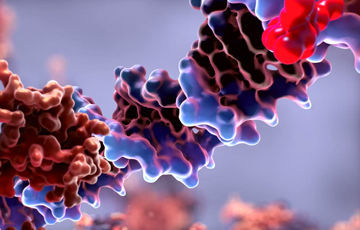 )
Cardio-renal
Otsuka's philosophy of delivering novel drugs for diseases where there is an unmet medical need can be seen in our efforts to develop an investigational treatment for people with autosomal dominant polycystic kidney disease (ADPKD). This inherited disease can impair kidney function and eventually result in kidney failure. Otsuka is also passionate about treating hyponatremia, a condition where changes in the body's water and salt balance may lead to a variety of symptoms, such as lethargy, nausea, vomiting and headaches. More seriously, in rare circumstances, it causes brain swelling that can prove fatal.
Atrial fibrillation is a relatively new area of interest for Otsuka. We currently have a product in the early stages of clinical testing for paroxysmal and persistent atrial fibrillation.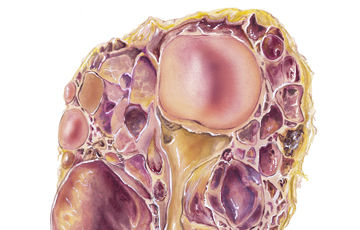 )